3W refers to the "Waterlox Globalization" program.
You will be joining the ever-growing business as a member of electrolysis water expert group that has accomplished the standards in the hygiene and health business using water technologies. You will be a part of the most dynamic organization with the trusted water-technology based health and hygiene business brands – aKua, Waterlox and eKlean. The 3W (Widen Waterlox World) program is specially designed by KTCC to help our partners achieve maximum business values and benefits at every step of the program under the idea of "what we do is to help you". There are three programs.
Distribute with us
Since 2001, KTCC has devoted to the development and marketing of water technologies and relevant products. It has obtained a number of patent technologies and introduced more than 10 types of equipment to the market. The water technology is divided into multiple stages. The first stage was featured as water purifiers that simply purify water. Filters, water purifiers, ion exchange resins, etc. These are not an independently integrated system but a group of sub components used to mechanically filter foreign matters from feed water.
The water technology has been evolved into electrochemical activated water passing through the electrolysis equipment stage. Water ionizers, which have been widely known recently, refer to equipment that can ionize water for drinking purpose by means of electrolysis technology without adding chemical additives. The water generated by this kind of equipment is called electrolysis ionized water. aKua® is KTCC's brand of electrolysis ionized water generator. Electrolysis activated water generator is also used to produce water with completely new functions through reactions with chemical additives using electrolysis technology. eKean® is an electrolysis activated water generator and Waterlox is our special brand for electrolysis water. In fact various types of electrolysis technology-based equipment have a number of similarities and differences in terms of their structure and intended use. Nowadays, certainly, quite a few equipment to covert ordinary water into water product with new properties and functions for disinfection or cleaning as well as drinking water have been introduced into the market, following the path KTCC has made.
2011 can be marked as the first year of water technology innovation. A compact non-membrane electrolysis activated water device was launched under the name of Toucan and GEN-X-3 in Europe and the United States and played a role of game changer to open the gate of market. From that moment, the electrolysis activated water equipment has not been an industrial purpose machine anymore. Structural issues have been resolved through innovation – simplification, miniaturization, space-saving, user convenience, easier maintenance and water standardization. KTCC has been able to open the gate leading to a tremendous size of new market through structural changes to electrolysis equipment. The scope of its use has been widened and expanded to food sanitation, infection control, public health, medical disinfection, drugs, detergents, corrosion inhibitors, sanitized ices, water treatment, flowering plant, disinfection of cooling towers and other daily life areas.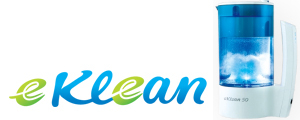 KTCC's experience and technology accumulated for a long time show that the applicable scope of the electrolysis equipment technology can be expanded to many areas overcoming regional characteristics, economic development levels, environmental restrictions and financial limits. For example, eKlean 50 can be used to generate cleaning or disinfecting water at home in developed countries; however, at the same, it can function as a small volume water disinfectant in a water shortage country such as India. One liter of 100 ppm disinfection water can be used to disinfect 500 liters of rain water. Practically, the scope of use and application of electrolysis water and electrolysis water generators is unlimited.
Be a distributor of aKua, eKean and Waterlox
KTCC place a high value on its distributors and intends to establish a close relationship as proved by its customer friendly and financial support system. Our strategies to increase the number of distributors are concentrated on the vendors of chemical and hardware supplies and based on the mutual reliability to exchange benefits.
One of the most extensive quality product lines in the industry

Wide variety of packaging options

Private label packages without large minimum order commitments

Custom packaging if necessary

Distributor support and product training

Blind drop ships to your customer

Competitive pricing
We will even do blind drop ships assuring our anonymity to your customers.
We can ship our products bearing no sender information to your customers. You can actively engage in the distribution activities of electrolysis water generator at the lowest cost by sending emails or any other promotional activities to your customers. You can also build your own sales organization.
There are many advantages to being an aKua & Waterlox distributor. Here are some of the most significant.
Major logistical advantages.

Ongoing technical-commercial training.

Participation in the annual distributors' convention.

Advance information on offers and promotions.

Access to the exclusive website area which contains valuable information.

Access to our B2B platform with additional discounts.

Guidance for your display designs.

Samples and display units for customers.

Point of sale image and communications support.

Assessment of the effectiveness of advertising campaigns.

Assessment to improve commercial efficacy.
Franchise with us
Start your franchise business of water and hygiene with us.
Get Your own Water, Your own Green Hygiene Solution

Your own functional water and environment-friendly cleaning and disinfecting water
Production of cleaning agent and disinfectant require large-scale manufacturing facilities yet, and huge initial investment and maintenance costs. Furthermore, the return on investment in highly competing production and sales environment of toxic chemical solutions is recording low. Huge initial investment and recent environmental issues impose a heavy burden on entrepreneurs who are planning to build a plant and start business in the area.
Experience a new business environment.
Do not compete but monopolize customers with your own products.
What would you do if your plant is running well, you have secured enough customers in your region and you have a little bit of budget to afford purchasing of the generating equipment? However, so far, no major chemical companies would have responded to our request. However, KTCC will provide answer to your small but importance request. aKua & eKlean & Waterlox, which can be applicable to a variety of business areas, are a business solution you can start with minimum investment.
There are more options optimized for your business including drinking water vending machine, ionized drinking water provision, natural hypochlorous acid provision and aKua ion water.
You will be given an opportunity to participate in continuous growth as a member of high quality expert's team who has achieved standards in water-based health and hygiene business.
Waterlox World ( 3W ) globalization program will provide high-quality mechanical and facility engineering services to our franchise partners to ensure maximum profits at all business levels in your regional share program under the idea that "We are here to help your business".
We also support the growth of our partners' businesses by providing a variety of materials and supports based on our experiences for their business expansion through cooperation with their customers and acquisition ( Co-operation ) of small chemical plants in their regions locally
Be one of the best. Franchise with us. Our Past helps to enhance Your Future.
Ready to begin a serious discussion with us about starting on the path to a rewarding career in the Health, Hygiene and Green industry. Contact us and we will contact you to begin exploring the opportunities open you.
If you are ready to take the first step to becoming a Waterlox World Wide, We invite you to tell us a bit about yourself, Chemical factory Pressure. If you are ready to take the next step towards advancing your career as an independent business person within the Waterlox World Wide network,
We invite you to complete our 3W Program Information.
Benefits and profits as an independent franchisee.
We can be your one source for your shop, your business, rest room and clean up supplies. To top it off, all of those items are available in private label or custom configurations without excessive minimum order requirements. We will be the foundation of your business. Minimum investment,a leading environment-friendly business, exclusive brand and distribution of the generating system. Exclusive franchiser Protection Programs.
Partner with us
KTCC is not a big company yet and has insufficient financial resources for product development and production. However, it has active and huge potential in the area of water and water technology. We believe we can create more with our partners. It was founded as a private company but will grow with our partners.
Our goal is to expand the 3W program and develop product that will lead the industry with our partners. Your valuable investment will make your and our dreams come true and you will be given an exclusive right to the product and distribution when the product development completes.
Be a future shareholder of KTCC.
The product development projects currently in progress are as follows;
Hyaluronic acid related Development.

Waterlox THRU

Waterlox ROBOTIC Machine

More valuable projects following
You can participate in the investment through sighing up the cloud funding site or purchasing our products.
Please contact KTCC for more details of investment program. We will provide you with detailed information.